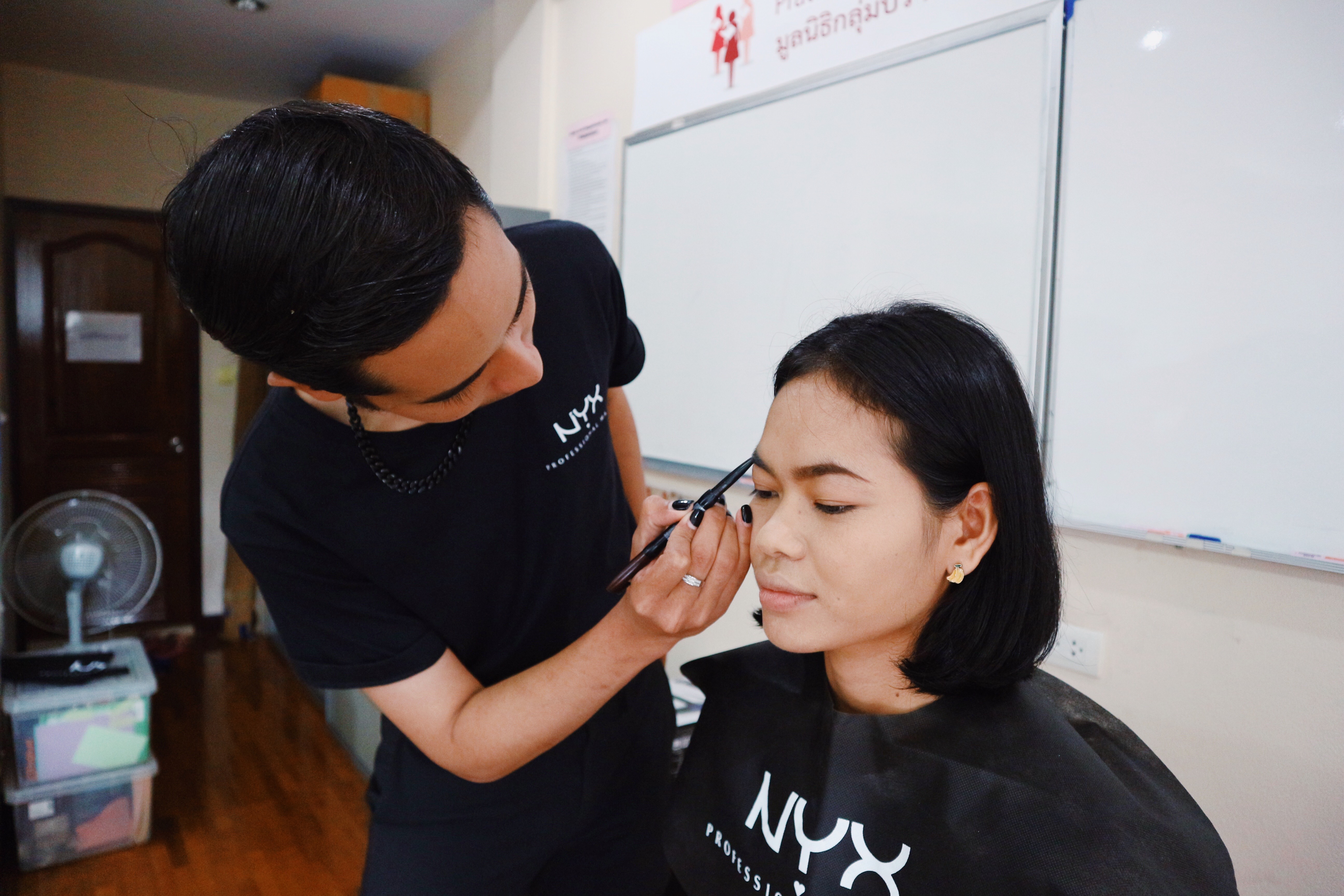 In July 2018, NYX Professional Makeup Thailand held a 2-day workshop at Pratthanadee Foundation for all of our ladies who wanted some makeup advice. The workshop focused on applying makeup to suit one's skin colour, face shape, and hair colour. The aim was to educate our students on how makeup can be applied efficiently and effectively to enhance their natural beauty and help them feel confident in their own skin.
The girls were welcomed by Wantikarn Kunpravit (Ton Kao), the mother hen of the group, while the workshop was led by teacher of the day Kru James. The first step was understanding the importance of a good base – so use primer! In the same way that a beautiful tree cannot grow without nourished roots, a beautiful face cannot emerge without primer. The second significant step was eyebrows because they play an essential role in framing the entire face. The ladies also learnt that eye-shadow is not as difficult to apply as they had previously thought, only needing 2 key shades to instantly achieve a brighter look. Additionally, Kru James explained that mascara should be applied from the inner eyelash line to the outer eyelash line in a zigzag motion. Applying mascara solely to the ends of the eyelashes will weigh them down and instead create a sleepy effect for the eyes. At the end, every girl went home with a NYX goodie bag and lipstick! All products used, such as the "Total Control" foundation, at the workshop can be purchased at NYX counters across Thailand, and NYX makeup assistants will also be there to help anyone and everyone choose a foundation shade that matches your skin colour.
Not only was this workshop an exciting lesson for the girls, but it also empowered them: having the skills to display both inner and outer beauty means they will be a force to be reckoned with in any professional situation. One of Pratthanadee's aims is to help girls gain both inner and outer confidence in order to achieve their goals. We are thankful NYX Professional Cosmetics Thailand joined us in helping our students feel confident on the outside as well as on the inside. We hope that everyone enjoyed developing their beauty skills with NYX, and stay tuned for more events coming up soon!