In 2016, we launched a new core training program: The Better Me Program.
Women at the Foundation now have access to career and personal development training to help set the right attitude and provide tools for success.
Over three months of weekly training, the program guides women from feeling trapped, dependent, and hopeless about the future to becoming empowered, optimistic and motivated, ready to explore new opportunities.
Better Me lifts women up. It lets them know that they can be more, and then it provides them with the tools and the support to become more. There is nothing else quite like it in Bangkok. It is built on 15 years of trial and error, and the content rivals many private sector personal development programs.
Better Me creates real empowerment: an internal and positive change in each woman, so that she can go out and change her life herself.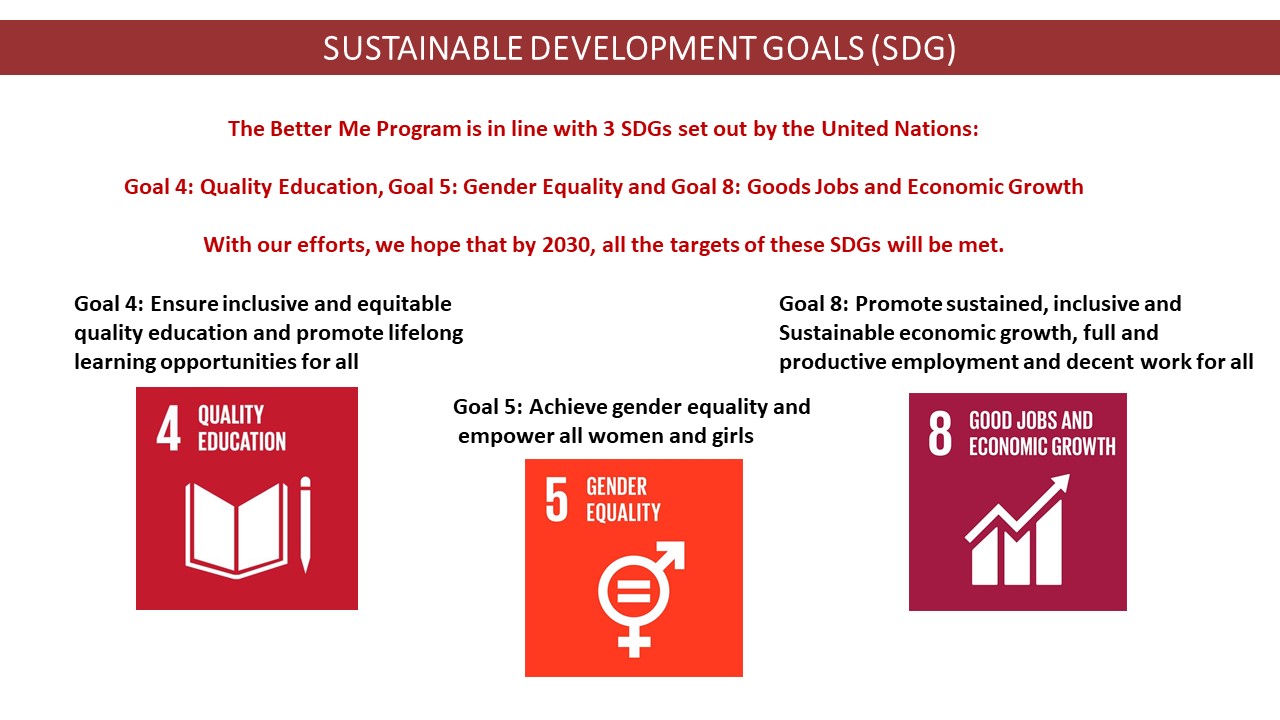 Develop Vital Skills
30 hours of career and personal development training, covering topics such as Self-Assessment, Goal-Setting, Women's Law and Rights, Self-Defense, Managing Your Money and Getting the Right Job for You.
Learn Basic English
25 English lessons, taking students up to Level A1 in the Common European Framework of Reference for Languages, and helping them to access higher levels of employment in Bangkok.
Personal Mentoring Sessions
A female mentor with regular one-to-one sessions to provide personal help and support throughout the program.
A Welcoming Community
Supportive staff, a computer lounge and library, and a welcoming center in the heart of Bangkok.
A common solution often proposed to the poverty faced in rural villages across Thailand is to send their children to the city to make money to send home.
While the poverty is challenging enough, the male-oriented culture has created an even more unfortunate fate for the women. Often, it is the young female who rescues her family, while men tend to be freer to live their lives.
There is always at least one person in every family, who knows intuitively from an early age that she will become responsible for improving the whole family's life, while the rest of the family lives from her earnings.
We work with these young girls before they move to the city, and then direct them to our courses aimed at women in Bangkok if and when they migrate.
Claim Your Rights Training (3 Hours)
Moving from a village to the capital city can be a shock, and many of these girls will find themselves in risky work, such as bars, clubs and private homes. We prepare them by providing training in life-saving skills, including:
Recognizing and avoiding dangerous situations.
Women's law and rights.
Basic self-defense.
To download Survival Guide, please click here.
Preparing for Success Training (3 Hours)
When girls leave village schools, they are unlikely to have received any advice on what to do next. This workshop introduces them to:
Self-assessment.
Training and education options post-school.
How to find and apply for jobs.