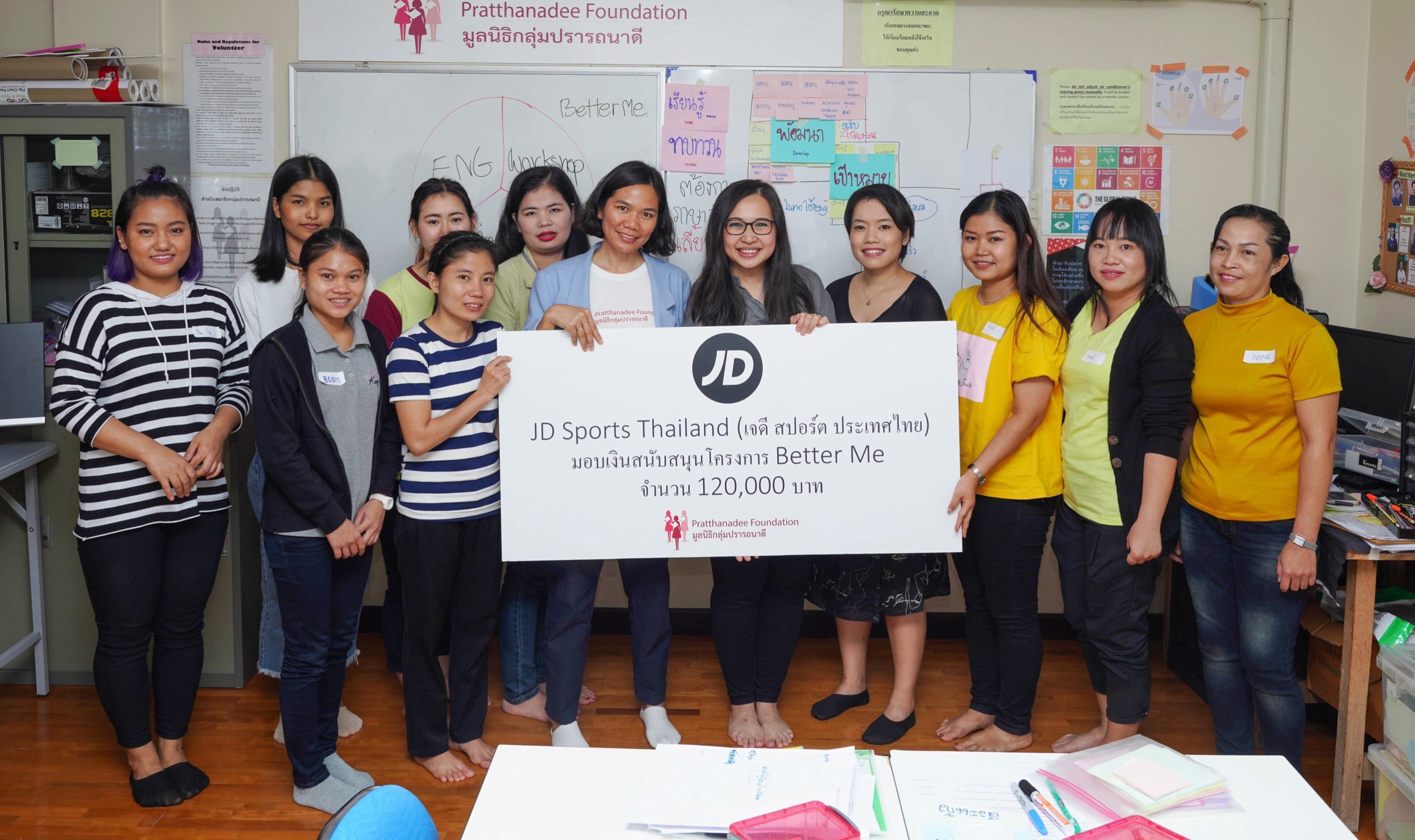 Recently, we received a visit from Jaclyn Tan, Head of Brand & Marketing (Southeast Asia) at JD Sports Fashion. The UK leading sports fashion retailer opened its flagship store at IconSiam plus an outlet at Mega Bangna less than a year ago. So it was flattering that we were picked as part of their CSR programme to support underprivileged women in Thailand.
Speaking to our students at the Bangkok office, Jaclyn said it was important for women to have a voice. True to her words, she gave us a cheque of 120,000 THB on behalf of JD Sports Thailand to fund 10 underprivileged women to attend our life-changing, nine-month 'Better Me' programme. These women will receive 30 hours of career and personal development training, covering topics such as self-assessment, dealing with people, managing change, planning and goal setting, managing money and negotiating with employers.
In addition, they will be paired up with female mentors, who are working professionals, for regular one-on-one coaching sessions. We are excited with this collaboration and hope it will be the start of more projects in the future as JD Sports widens its footprint in the kingdom.
มลนิธิกลุ่มปรารถนาดี ขอขอบคุณบริษัท เจดี สปอร์ตส์ แฟชั่น (ประเทศไทย) ที่ได้มอบเงินบริจาคจำนวน 120,000 บาท จากบริษัทฯ เพื่อสนับสนุนโครงการของมูลนิธิฯ มูลนิธิฯ ขอขอบคุณบริษัท เจดี สปอร์ตส์ แฟชั่น (ประเทศไทย) ตลอดจนทีมงานผู้มีส่วนเกี่ยวข้องทุกท่าน สำหรับการช่วยเหลือและสนับสนุนเราในการส่งเสริมศักยภาพผู้หญิงและเยาวชนหญิงเพื่อการมีคุณภาพชีวิตที่ดียิ่งขึ้นค่ะ ??